Clear Float
Clear Float - SGG PLANILUX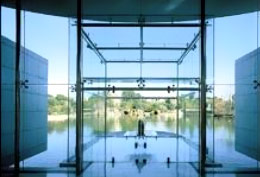 Clear high quality float glass with numerous applications. Available in a wide range of thicknesses and dimesions. It is the base line product for the processed products of sound insulation, thermic insulation, laminated, thermally treated, sand-blasted, bevelled etc.
It is used when a clear neutral glass is demanded: anywhere from furniture and shelves to glass building facades (all-glass structural facades).
Please note that our company certifies our products for their correct and exact dimensions for all glasses cut-to-order in the tenth of millimeter..
CLEAR FLOAT)
Standard sizes available in stock:
2mm: 100x200, 120x220, 140x220
3 mm:100x200,110x220,120x220,130x220,140x220,150x220,160x220
4mm: 321x190, 200, 220, 225,240
5mm: 321x190, 195, 200, 205, 210, 220, 225, 230, 240, 255, 510 - 220x110, 120, 130, 140, 150, 160
6mm: 321x 225, 240, 600
8mm: 321x225, 255, 600
10mm: 321x200, 220, 225, 255, 450, 510, 600
12mm: 321x200, 225
15mm: 321x225, 510, 600
19mm: 321x200, 220
Laminated 3.3.1 321x225, 600
Laminated 3.3.1 PVB white 321x225, 600
Laminated 5.5.1 321x225, 600
Laminated 5.5.1 PVB white 321x225, 600
Laminated 6.6.1 321x225, 600
Laminated 8.8.1 321x225, 600
Laminated 8.8.P6B (20.6 mm) 321x225, 600